Application of Ozone in Denim Washing Water Industry
Date:2022-04-11 09:49:14
Views:227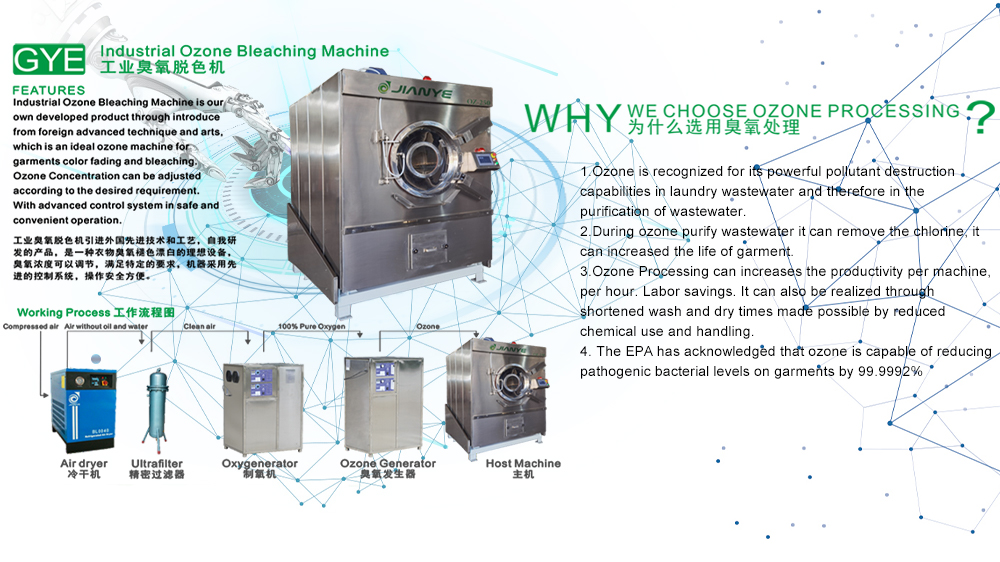 With the development of the times and the update of the trend, washing water, as a special status process in the finishing of garments, will occupy a pivotal position in the textile industry in the future.
Washing water is the drum washing of garments (cloths) with the help of chemical auxiliaries, stones (rubber ball), etc., so as to achieve various purposes such as cleaning, softness, fading, and obsolete. In order to achieve a certain effect, the temperature, washing time, and the type and amount of chemical raw materials used can be changed to meet the requirements. After washing, the clothes will be improved in terms of feel, color, visual effect and wearability. At the same time, the clothes are shrunk after washing, which makes them not easily deformed during use, and the size remains relatively stable. According to the auxiliaries used and the washing effect, it can be generally divided into general washing, stone washing, enzyme washing, enzyme stone washing, chemical washing, sand washing, snow washing, rinsing, whitening, etc. In addition, in order to obtain the comprehensive effects of the above , different washing methods can be used in combination.
The ozone gas generated by the ozone generator is fully contacted with the clothes in the drum of the machine, so as to achieve the disinfection, anti-oxidation, decolorization, color fixing, bleaching, pattern and other processes of the clothes. Ozone is a strong oxidizing gas with super decolorization ability for all dyes, which can help enterprises greatly reduce operating costs, reduce the cost of original high-temperature steam decolorization, and improve the economic benefits of enterprises.
The source of ozone is the air, and after the ozone treatment is finished, it will return to the air. Generally, ozone exists in the air for only 25 seconds, and then it will be converted into oxygen, which is very environmentally friendly and very important to the human body and the environment; and after ozone treatment The denim series of clothing also has special visual effects, and it can also handle all kinds of T-shirts.